This Website includes accessibility features for the user to customise the look of the website to suit their needs if required.
These can be accessed by clicking on the  icon n in the bottom right of the screen this will open the toolbar. icon as shown below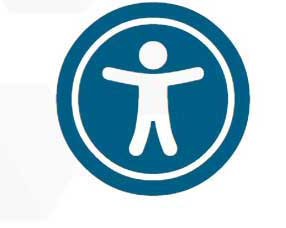 Visitors can change the font, enlarge text size, and find the best colour contrast to make sure they can easily consume content.
The toolbar also enables users to use text-to-speech and accessible focus indicators to more easily navigate the site.
Controls from left to right
1. Contrast
Adjust the colour contrast of the content on the site. Choose between black text on white background and white text on black background.
2. Text size
Adjust the font size on the page. Choose between default, large, and extra large text.
3. Change font size
Allows users to change the font on your site. Choices include OpenDyslexic, PT Serif, and PT Sans.
4. Reset
Turns off all accessibility settings .
5. Text to Speech
Easy to use text-to-speech options. Visitors can either have the entire page read aloud to them or take control by selecting the sections they want read with the cursor symbol.
6. Settings ( not needed)